7 Stunning Exterior Colour Ideas for Your Home
You know what they say. First impressions are everything. Your exterior colours can completely change the look and feel of your home, but the choice you make is about more than just expressing your personal style. It can also affect the value of your property when it comes time to sell. Continue reading for exterior colour ideas from OMNI.
Choosing your exterior colours may sound like a daunting commitment, but luckily for you, we've put together some of our favourite ideas that would suit just about anyone.
Tonal Greys
A timeless grey palette is a popular choice for Australian homes and with good reason. From warm to cool, bold and contrasting to soft and contemporary, this palette is incredibly versatile yet neutral enough to fit right into just about any neighbourhood.
Subtle Pastels
The sound of pastels might have you picturing a home made for unicorns, but a soft pastel hue or two paired with light, natural colours can really add that touch of interest you might be looking for. This colour palette can soften the look of modern designs and bring out the charm in Victorian style homes.
Just a Pop of Colour
Using accent colours on an otherwise fairly neutral palette is a great way to give your home some personality while keeping it easy to change if needed. Be warned, homes with quirky pops of colour have become the star of many an Instagram story and may attract an innocuous millennial or two.
Clean Whites
Not for the faint of heart, all-white homes are definitely a stunning but high-maintenance choice. This choice of colour might scream coastal living, but it also manages to look equally gorgeous on an elegant Queenslander nestled in the suburbs.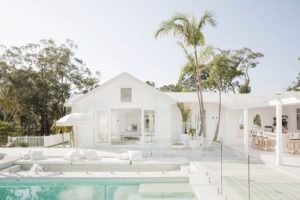 Monochrome
A black and white, monochromatic home can be quite bold if stark, contrasting shades are your kind of thing, but softer monochromatic looks seem to be taking over the Pinterest world. Neutral whites and soft greys paired with a charcoal trim and accents can actually make a home look warm, inviting and elegant.
Modern Coastal
Seaglass and brushed white wood may be the star of the show when it comes to coastal homes, but a combination of cool whites, navy blues and maybe even a touch of icy blue is definitely a look to watch for. Particularly gorgeous on the elegant Hamptons and the Cape Cods of the world, this palette is an elevated twist to the coastal palette.
Desert Hues
The warm, earthy tones of these desert hues take inspiration from our natural landscape. Our desert tones, however, take on a much lighter palette – think warm whites, terracottas, and even some light yellows. This colour palette definitely stands out against the greenery and would be beautifully accented with a cactus or two.
Want to learn about choosing your home exterior colours with Omni Built Homes?
Firstly, take a look at our range of Hamptons style home designs. Once you have an idea of what you're after, get in touch to have a chat about your new home building plans.