Prior to starting with Omni – Testimonials
WHAT DEFINED YOUR FINAL DECISION TO BUILD WITH OMNI? WHAT WAS THE TRIGGER THAT MADE YOU SAY TO YOURSELF LET'S SIGN UP?
A few factors influenced our decision:
Price and transparency of costs
Level and quality of inclusions
Speed in responding to queries and customer service
Although overall, compared to the other builders we engaged, what stood out was the responsiveness to our queries and transparency. We never felt we were being pushed into upgrading/signing or being mislead with information – e.g. the deceptive/pushy sales pitch.
From my perspective it is as soon as we made an enquiry we were contacted by Joe and explained what happens next, the whole process has been made easy to follow and detail given to us in 'layman's terms', communication and progression has been awesome.
We decided to build with Omni because the first appointment (and every appointment after) felt informative, helpful and personal. Being first home builders/buyers we weren't really sure what to expect, but all contact (Joe, Nikki, Gail and Steve) has been straightforward and very supportive and friendly (especially with Gail, who always replies promptly and was willing to work around our jobs as teachers which can prevent us from answering phones/emailing back straight away).
We especially decided to build with Omni at the start because Steve was very helpful in that very first appointment and even went above and beyond to help us secure the land we wanted, which I imagine is not in his job description. It was also great to be able to alter the floor plans to suit our needs, a freedom I am not sure we would have had with other companies. Joe has also been helpful by giving great advice and Nikki was a lifesaver in the colour appointment.
Basically, we are glad we went with Omni, because the process has remained helpful and friendly the entire way through. Thanks for making a stressful life decision less stressful!
Hi Thomas
Thought I'd send a quick email to say thanks for all your time and help with us over the last couple of months. We appreciate the approach you and OMNI take – it's good to feel like we can come away and know that you guys were genuinely helpful and clear with us as customers and as first-time buyers/builders.  It was a pleasure to deal with a company that values integrity. We will recommend you without hesitation to anyone who wants to build. 
 Thanks again to you and Joe and the team. All the best
At Completion – Testimonials
"The Omni house is our seventh new house and before choosing Omni we spoke to several home builders at various display centres.  After choosing a larger company and paying for the first two stages we opted out due to the poor service and style of communication.  They promised much but delivered little and always at a cost.
Our first contact with Omni was with Amy who was a delight and who convinced us to stay with Omni.  Almost immediately Amy showed us an Omni house under construction, talked about what they could do for us and what might or might not affect the cost.  She quickly understood what we wanted in this house and provided options.
Nicole was also quickly able to understand our requirements and helped us decide in record time the tiles, flooring, colour, cupboards, taps, etc.
Gail was obviously the 'go to' person who had a hand in everything and was willing to make suggestions even after the plans had been finalised.  For example, Gail believed the stairs were not very aesthetically pleasing and redesigned them to a totally pleasing plan and at no further cost.  On one other occasion, we had a retaining wall included without a variation cost.  If we needed to ask a question about anything Gail seemed to know the answer or was able to get the answer.
Our Project Manager, David loved to talk about what is happening at our house especially when we met in person.  He explained all of the stages – what, when, how and why and he was happy to answer any other questions we asked.  Our house was David's first Omni home that he project managed.  He seemed as excited as us when we reached certain stages.
Finally, Omni owner Joe obviously understands having a great team makes his job a whole lot easier.  He has selected some excellent people.  On occasions when I telephoned the Omni office, Joe might answer the call and was always in for a chat and knew exactly which stage our house was at.  If he could not answer something he always asked Gail who could answer.
Even though many builders blamed the pandemic for delays Omni were able to deliver our house on time with no real issues.  I thoroughly recommend the Omni team."
We built with Omni last year. Absolutely fantastic experience, a pleasure to deal with and in my opinion way better value than a volume builder. In our experience a straight forward process, no BS/dirty sales tactics and above all a fast build delivered on time to a first rate standard. Do yourself a favour and at least talk to them before you sign with anyone else.
This is our dream home, we love it and we are very happy to call it home. The design of the house gives us some wonderful unique features, giving us a spacious house which feels and looks great. We were very impressed with Nicole, the Interior Designer, who worked closely with us and made our colour selection process an enjoyable one. Her color coordination was amazing. A big thank you to Gail who helped us through every stage, going above and beyond in assisting us in any way she could. We found the whole team at Omni gave us their full attention, providing some very sound advice in selecting the right block of land and ensuring we were happy with the work being carried out.  We were also impressed at Joe's demand for a high standard of workmanship, which gave us peace of mind. To Joe and his team we say Thank You for making our dream home come true.  We have no hesitation in recommending Omni Built Homes.
"Dear Joe, Gail, Adrian and Stephen
Thank you so much for everything you have done – we couldn't be happier with our new home and it was an absolute pleasure to have you build our house – we are so happy that we chose you to be our builder. Thanks so much and we will be recommending you to everyone we know!!"
Hi Joe, Adrian, Gail and Stephen,
We have received a beautiful bunch of flowers and teddy bear… thank you very much, we are really touched.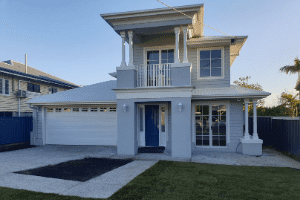 It's been a huge first week, and was really special to come back to our family home.
We can't say how grateful we are to have moved in when we did and have our home ready for this moment in our lives.
Many thanks for making this happen, and for the beautiful gift.
"Having built previously with another builder, we were pleasantly surprised that this time it was not a stressful experience, but enjoyable and extremely satisfying thanks to the professionalism and reliability of the Omni Built Homes team. They were always easy to contact and would keep us informed as to progress on a regular basis. It was refreshing to be afforded the time necessary to listen to our requirements and to be provided advice regarding the materials and designs, rather than feeling like just another number as is the case with the larger builders.
It was obvious to us that Joe Grbavac had a very good working relationship with his sub-contractors who were all so well informed and time coordinated that the build went like clockwork. Joe consulted us on every decision and nothing was a problem if changes needed to be made. We found Joe's advice to be sound and cost effective. The Omni Built Homes team have an eye for detail and the quality of finishing was to the very highest standard.
Omni Built Homes clearly take pride in their work and genuinely enjoy completing projects for their clients. We would definitely engage them again if we build in the future. If you are looking for a builder who listens, provides valuable advice, project manages well, keeps you involved and in control, and whose team does a professional job to a high standard, then we suggest you engage Omni Built Homes as your builder".
"Joe and the team at OMNI Built Homes showed us that building a home can be a great experience. We had a group of about 20 children and adults over recently for a party and everyone loved the house. There is so much space! The flow from entry and how it opens out into a fantastic living space onto the Alfresco and pool area is great for entertaining. The team were approachable and proactive in addressing any queries we had along the way and they produce a quality and unique product. We were able to give our input throughout the build and really felt valued and part of the experience. Great work guys!"
"I love it, I love it to bits, I love it more every single day. I look at it and I feel my house is just perfect. I would highly recommend Omni Built Homes to anyone." "We have neighbours nearby who are not happy with their home after their builds, quite a few of them, I feel sorry for them because my home is perfect".